Zeit für Verhandlungen!
PROGRAMM der 9. INTERNAT. KONFERENZ "EU, TÜRKEI & KURDENFRAGE"
30.11.2012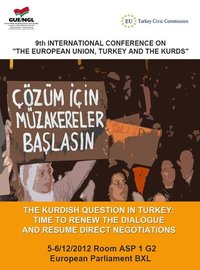 THE KURDISH QUESTION IN TURKEY: TIME TO RENEW THE DIALOGUE AND RESUME DIRECT NEGOTIATIONS
Interpretation available in Turkish, English, French, German, Dutch, Danish
Patrons
Archbishop Emeritus Desmond Tutu Nobel Peace Prize Laureate, South Africa Dr. Shirin Ebadi Nobel Peace Prize Laureate, Iran Bianca Jagger Council of Europe Goodwill Ambassador Chair of the Bianca Jagger Human Rights Foundation, UK Professor Noam Chomsky Writer, USA Yasar Kemal Writer, Turkey Vedat Turkali Writer, Turkey Leyla Zana European Parliament's Sakharov Prize for Freedom of Thought, Rafto Prize Laureate, Turkey
Wednesday, 5th December 2012, 15.00-16.30: Opening Remarks and Greetings
Ms. Kariane Westrheim, PhD, Chair of EUTCC, Associate Professor, University of Bergen, Norway, MEP Ms. Gabi Zimmer President of the European United Left - Nordic Green Left Group (GUE/NGL) in the European Parliament, Germany, MEP Ms. Hélène Flautre (to be confirmed) Co-president of the Joint Parliamentary Committee EU-Turkey Greens-EFA Group, France, Video messages of Conference's Patrons Archbishop Emeritus Desmond Tutu, South Africa
Opening Speech: MP Ms. Leyla Zana Member of the Turkish Parliament, European Parliament's Sakharov Prize for Freedom of Thought, Rafto Prize Laureate, Turkey ·
Wednesday, 5th December 2012, 16.30-18.30: The Turkish-Kurdish Conflict – where is it going?
Moderators: MEP Mr. Jürgen Klute, Coordinator of the EP-Kurds Friendship Group, GUE/NGL Group, Germany
The EU and Turkish Accession: The Rule of Law and the Limits of Judicial Reform · Mr. Walter Schwimmer, Former Secretary General of the Council of Europe, Austria · MEP Mr. Claude Moraes, Socialists & Democrats Group, UK · MEP Ms. Ana Miranda, Greens-EFA Group, Galicia
Press Freedom, Media Censorship and the Kurdish question · Mr. Ahmet Şık, Journalist, Turkey
The New Constitution – what Democratic Legitimacy? What's missing? · Professor Sevtap Yokuş, Kocaeli University, Turkey
The impact of the Turkish/US/EU legislation on the Kurdish conflict · Ms. Meral Danış Beştaş, Lawyer, Turkey
Democracy Deferred – the Continuing Challenges: Political Trials, Identity and Human Rights Mr. Raci Bilici, Chair of the Human Rights Association Diyarbakır Office, Turkey
The Roboski Massacre – Unanswered Questions · Mr. Ferhat Encü, Victim, Turkey The Importance of Women & Gender Issues in Turkey · Ms. Özgür Sevgi Göral, Academic, Turkey Questions and discussion with moderators & discussants
Thursday, 6 December 2012, 09.30-13.00: Middle East at the cross-roads: Whose regional order?
Moderators: Mr. Hans Branscheidt, EUTCC, Germany MEP Mr. Søndergaard Søren Bo, GUE/NGL, Denmark
The achievement of Kurdish democratic autonomy in Syria and its regional ramifications · Mr. Saleh Muslim, Co-President of the Syrian Kurdish Democratic Union Party (PYD) and Deputy General Coordinator of the National Coordination Body for Democratic Change in Syria (NCB)
Turkey's role in the Arab Spring and it regional and international policies: present scenarios · Mr. Cengiz Çandar, Journalist, Turkey
Rethinking politics and democracy in the Middle-East · Mr. Joost Jongerden, PhD,Wageningen UR, Netherlands
Who will determine what "System" for the Middle East? · Mr. Serdar Akinan, Journalist, Turkey
The Upheavals in the Region and their Impact on the Kurds · Professor Ofra Bengio, Senior Research Fellow at the Moshe Dayan Center for Middle Eastern, Israel
What role could the Kurdish "democratic autonomy" project play? · Ms. Aysel Tuğluk, Co-Chair of Democratic Society Congress (DTK), Turkey Questions and discussion with moderators & discussants
Thursday, 6 December 2012, 18.00-18.30: Conclusions and Recommendations
Moderator Professor Michael Gunter, EUTCC, United States
Final Remarks by the Board of the EUTCC
---