No Peace without Women
GREETING TO THE NATIONAL COLOMBIAN PEACE RALLY ORGANISED BY MUJERES POR LA PAZ
24.11.2013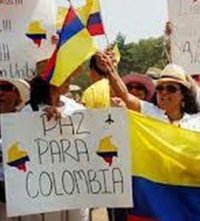 Brussels, November 21, 2013
As Members of the European Parliament committed to peace, we warmly greet the rally organised by Colombian women in Bogota, tomorrow, November 22, in support of the peace process in Colombia between the government of Juan Manuel Santos and the FARC.
We support this initiative organised by Colombian citizens, who are calling upon the actors at the negotiating in the table in Havana to continue their efforts to reach a final agreement and not to leave the table until this is achieved.
This women's peace rally is extremely important, as it demonstrates Colombian society's involvement in the peace process. The MEPs who have signed this letter, believe that it is important to remember that civil society, especially women, have been developing peace building proposals for decades, calling for a political solution to the armed conflict in Colombia. For this reason we ask the actors at the negotiating table in Havana to listen to the demands of civil society, in particular women and victims, and take their proposals into account. If Colombia wants to emerge from a conflict which has raged for so many years and build a lasting peace, these voices must be heard.
We know that the efforts underway in Havana are enormous and that after so many years of confrontation, the task is complex. Nevertheless, we call on the players at the dialogue table to assess the possibility of calling a bilateral cease fire. Colombia should not have to mourn any longer for the victims of armed conflict. A ceasefire would be an important step in building confidence in the peace process, and in showing results and positive changes for civilians living in conflict zones.
Please know that we are your friends for peace in Colombia. We wish you the utmost success in this historic process.
Download-Dokumente: