Syrian refugee crisis: Turkey must open border for humanitarian aid to Syrian Kurdistan
April 17th, 2014
Jürgen Klute, Alda Sousa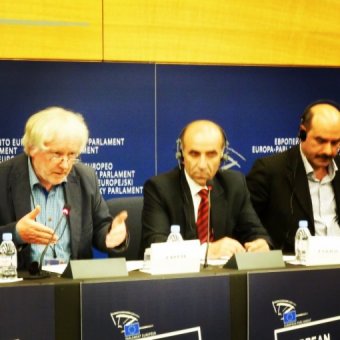 MEP Jürgen Klute at a press conference with Fayik Yagizay and Mustafa Abdelsalem
Two GUE/NGL MEPs intervened this afternoon in a European Parliament debate on the situation of vulnerable communities in Syria.
GUE/NGL MEP Jürgen Klute said: "In Syrian Kurdistan in the north of the country the violence has been limited to an extent and people there have set up a basic democratic structure. As a result many refugees have fled there. But the area remains isolated and cut off from humanitarian aid.

"We need to break isolation of this region, which sits on the Turkish border, so as to get aid through. We appeal to the Turkish government to open its borders for humanitarian aid."

GUE/NGL MEP Alda Sousa added: "The Kurdish population living on the Iraq-Turkey-Syria border are in urgent need of humanitarian aid. We also must draw attention to the plight of the half a million Palestinians who were refugees in Syria and have now been displaced once more in neighbouring countries such as Lebanon."