MEPs put into question the decision to oust Gustavo Petro from his position as Mayor of Bogotá
Open letter to President Juan Manuel Santos
December 11th, 2013
MEPs Klute, Romeva i Rueda, Zimmer, Matias...
We are writing to you in order to express our utmost concern regarding the decision of the Attorney General's Office to dismiss and disable for 15 years Mr Gustavo Petro, Mayor of Bogotá City. Mayor Petro was elected by a majority of votes and has a popular mandate in the most important city of Colombia.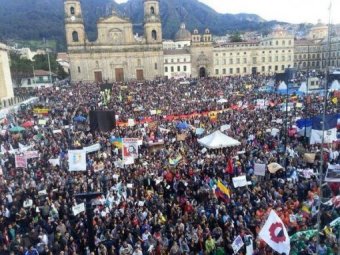 It is known that within the framework of the Inter-American Court of Human Rights and the International Covenant on Civil and Political Rights, it is impossible that a civil servant removes a governor elected by the vote of the people. Concretely, the American Convention on Human Rights stipulates that political rights can only be restricted per means of a sanction, if a condemnation exists and is taken by a competent judge, according to a legal procedure. This is not the case with Gustavo Petro.
The action taken by the Mayor of Bogotá tried to transform this city in "More Human Bogotá", when he launched a new waste management scheme in the city which included people living on recycling activities, which had been the monopoly of private companies before. It may well be that errors happened while implementing this new scheme, however, the destitution and ousting of the Mayor make us think that political persecution could have been behind the reasons given for the procedure leading to his destitution.
We accompany those voices which strive for the strengthening of democracy and strong institutions in Colombia, and welcome the declarations given by the Minister of Justice in Colombia, with respect to "a review of the constitutional norms which allow for ousting persons who have been elected by popular vote".
Equally, we invite you to support a process of revision of the competences of the Attorney General's Office, to put in evidence their conformity with International Legislation.
Finally, let us underline that we are at your disposal to accompany you in your search for the respect for Human Rights and Democracy in Colombia.
Kind regards,
Raül Romeva i Rueda, Greens/EFA (Catalonia)
Jürgen Klute, GUE/NGL (Germany)
Catherine Greze, Greens/EFA (France)
Gabriele Zimmer, GUE/NGL (Germany)
Urlike Lunacek, Greens/EFA (Austria)
Patrick le Hyaric, GUE/NLG (France)
Bart Staes, Greens/EFA (Belgium)
Alda Sousa, GUE/NGL (Portugal)
Sandrine Bélier, Greens/EFA (France)
Marisa Matias, GUE/NGL (Portugal)
Helmut Scholz, GUE/NGL (Germany)
Iñaki Irazabalbeitia, Greens/EFA (Basque Country)
Søren Bo Søndergaard, GUE/NGL (Danemark)
Martin Haeusling, Greens/EFA (Germany)
Sabine LÖSING GUE/NGL (Germany)
Willy Meyer, GUE/NGL (Spain)
Satu Hassi, Greens/EFA (Finland)
Franziska Keller, Greens/EFA (Germany)
Ana Miranda, Ex Greens/EFA MEP- Vicepresident EFA